Mechanicals parts
Mechanical parts for your mining crushing and grinding equipment
Like mining wear parts, mechanical parts are essential to the operation of your mining crushing and grinding equipment. Failure of one of these mechanical parts results in a forced shutdown of aggregate production.
Our long mining expertise in aggregate production equipment and especially in grinding and crushing machinery gives us confidence in the fact that we are a partner of choice in supplying you with the right mechanical parts for your mineral production equipment. 
As a result, we provide you with quality mechanical parts that we have in stock to reduce downtime mining equipment, but also the cost per-tonne of your mineral or mining operations.
Mechanical parts for cone crusher:
Bowl assembly
Head assembly
Frame assembly
Hydraulic assembly
Colunterweight assembly
Compatible with:
Metso Nordberg®* HP: HP100, HP200, HP300, HP400, HP3, HP4, HP5, HP6
Lokotrack®*: LT200HP
Sandvik Hydrocone®*: H2000, H3000, H4000, H6000
Sandvik Superior®*: S2000, S3000, S4000, S6000
Mechanical parts for jaw crusher:
Connecting rod
Connecting rod shield
Articulation flap and grain
Return system
Adjustment system
Tightening screws
Compatible with:
Metso Nordberg®* C Series: C63, C95, C96, C100, C105, C106, C110, C116, C120, C125, C130, C140, C145, C150, C160, C3054
Metso Lokotrack®*: LT100, LT105, LT106, LT110, LT116, LT125, LT140,  LT150
Sandvik Jaw Crusher®*: CJ412, CJ612, CJ613
Mechanical parts for the impact crusher:
Shaft
Pulley – Transmission
Compatible with:
Metso Nordberg®* NP Series: NP 1110, NP 1213, NP 1315, NP 1110 M NP 1213 M, NP 1315 M
Metso Lokotrack®*:  LT1110S, LT1213S, LT1315
Metso®* J4000
Mechanical parts for screens: 
Motovibrators and motors
Shafts, casings and bearings
Belt, pulleys and gimbals
Trolley motorisation
Protection and compliance items
Compatible with:
Metso®*, Sandvik®*, Terex®*, Powerscreen®*, Keestrack®*
Mechanical parts for the conveyor belt:
Drums
Levels
Geared motors
Protection and compliance items
*Metso®, Sandvik®, Powerscreen®, Terex® and Keestrack® are registered trademarks or trademarks, and are in no way affiliated with Haladjian Minerals.
Access our entire product solution for the aggregate and mining industry
NEWS
Lastet news
Mechanical parts for aggregate production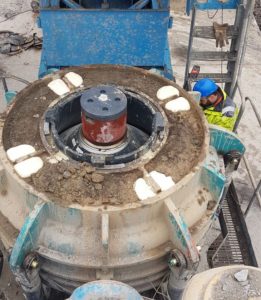 You want to know more on how to maintain the reliability and the productivity of your aggregates production crushing and grinding machines? It is an
Read more »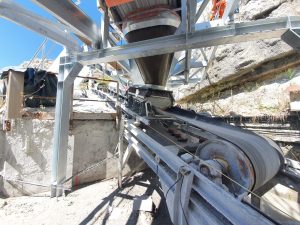 Haladjian Minerals Solutions is a company specialized in aggregates production services and in fixed plant engineering for quarries. Read about our custom-made chute for a quarry fixed plant.
Read more »