Performance
Improve the performance of aggregates and mining production and reduce the cost per-tonne of your crushing and grinding facilities
Our mission is to provide multi-brand mining wear and spare parts for the most representative crushers/grinders, sieves and conveyors on the market. And offer a flexible service ranging from repairing existing crushing and grinding machines to full services on complete facilities in quarries and mines. With a single goal to increase the productivity of your aggregates and mining production operations while reducing the cost per-tonne of your fixed and mobile mining facilities. Our service of process optimization and engineering of mining equipment aims at doing exactly that.
As an alternative to major brand manufacturers of mineral and mining wear parts and components, we focus our efforts to develop our skills in the mining process optimization and in machine expertise to be able to support our customers in various issues, ranging from the manufacture of new mineral fixed plant facilities to modifications to existing facilities.
We offer a service of excellence to customers in the mineral and mining industry and believe that our experts are the heart of our business. As multi-brand experts, we also ensure the expertise and the quality of the aggregate production equipment we offer thanks to the continuous improvement of the skills of our suppliers. With a global portfolio of innovative mining products and services, our mission is to help our customers achieve their goals and maximize their productivity through high-quality mining equipment. We help you define the most productive and cost-effective solution for your mineral and mining application.
Solutions
Solutions and applications for quarrying and mining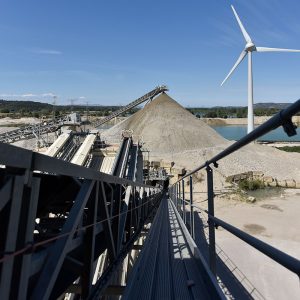 Optimize your mineral operations and maximize your profitability with our aggregate and mining production equipment for your production operations. We offer original components and a wide range of mining wear parts for cone crushers, jaw crushers, impact crushers, gyratory grinders, sieves, conveyors and feeders for quarrying, mining and mineral extraction.
NEWS
Lastet news
Haladjian Group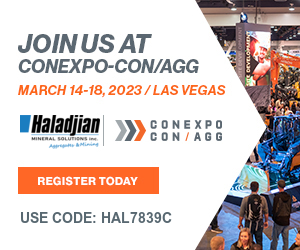 BOOTH : C22126 – Haladjian Mineral Solutions will be at Conexpo. Please stop by we look forward to seeing everyone You can use the code
Read more »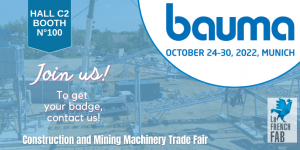 We are happy to announce our participation at Bauma 2022, in Munich ! Come meet us ! The Haladjian group is present with its various business experts
Read more »
Alluvial quarries use the extraction system called dredging for submerged materials. Dredging is one of the first steps in the aggregate production process in a
Read more »