Minerals solutions
Haladjian Mineral Solutions, solutions and applications for the mineral and mining industry
Haladjian Mineral Solutions is a subsidiary of the Haladjian Group,which is a 100% family-owned company with 60 years of experience in the extractive, mining, construction and energy industry.
The Group is an independent key player in the distribution of parts, services and process management for the crushing and grinding industry.
Through Haladjian Mineral Solutions, the Haladjian Group has been extending its expertise to the fixed and mobile facilities market since 2016.
Haladjian Mineral Solutions specialises in the distribution of multi-brand parts and services for facilities in quarries and mines: crushing, sieving and conveying.
The values
The vision and values of the Haladjian Group
The Haladjian Group provides its customers with comprehensive and innovative solutions to suit the development project.
The different entities of the Haladjian Group provide solutions ranging from mobile machines to the operation of the production plant. Therefore, we cover the entire value chain of a mining or aggregates production operation.
Our solutions are complemented by solid field experience and a focus on customer satisfaction.
The third generation managing the Group relies on this real know-how in distribution and on the expertise of the various teams to provide innovative solutions in order to meet the ever-changing needs of the construction, quarrying and mining sectors. The company continues to invest in emerging technologies in order to respond effectively to the challenges faced by its customers.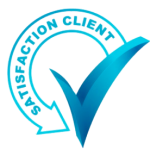 Focus on customer satisfaction
We focus on customer satisfaction rather than processes. We believe that we can achieve this goal through the empowerment of our employees.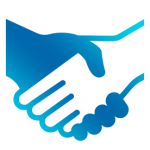 As a family group, our success depends on the trust we create with our employees, customers and partners. We gain credibility by honouring our commitments, demonstrating honesty and integrity, and achieving corporate goals.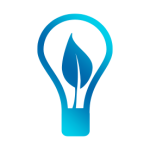 Innovation within the Group
We continually invest in innovation to improve the experience of our customers through connected and integrated solutions. We want to anticipate future changes in our customers' processes to optimise production costs and performance. Mine optimization operations have three main goals : improve productivity, reduce downtime and workforce and environment protection. We always invest in new technologies to make our distribution and service model innovative and efficient (ERP, digitalization of sales, uberisation of services, focus marketing, inventory management, etc.).
Other Haladjian Group subsidiaries
Figures
Key figures for the Haladjian Group
NEWS
Lastet news
Haladjian Group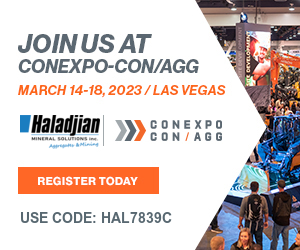 BOOTH : C22126 – Haladjian Mineral Solutions will be at Conexpo. Please stop by we look forward to seeing everyone You can use the code
Read more »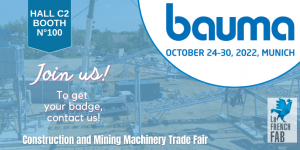 We are happy to announce our participation at Bauma 2022, in Munich ! Come meet us ! The Haladjian group is present with its various business experts
Read more »
Alluvial quarries use the extraction system called dredging for submerged materials. Dredging is one of the first steps in the aggregate production process in a
Read more »