Spare parts
Haladjian Minerals Solutions, supplier of mining spare parts and services for your crushing and grinding facilities
In order to provide you with the most complete solution possible, we distribute certified mining wear and mechanical parts compatible with your Metso®* and Sandvik®* brand grinders and crushers. 
We cover all your needs of mining spare parts in the following areas:
Compatible spare parts for cone crushers  (Metso Nordberg®* HP Series: HP100, HP200, HP300, HP400, HP3, HP4, HP5, HP6;  Metso Lokotrack®*: LT200;  Sandvik Hydrocone®* : H2000, H3000, H4000, H6000, Sandvik Superior ®* : S2000, S3000, S4000, S6000),
Compatible spare parts for jaw crushers (Metso Nordberg®* C Series: C63, C95, C96, C100, C105, C106, C110, C116, C120, C125, C130, C140, C145, C150, C160, C3054;  Metso Lokotrack®*: LT100, LT105, LT106, LT110, LT116, LT125, LT140, LT150; Sandvik Jaw Crusher®*: CJ412, CJ612, CJ613),
Compatible spare parts for impact crushers (Metso Nordberg® NP Series: NP 1110, NP 1213, NP 1315, NP 1110 M, NP 1213 M, NP 1315 M; Metso Lokotrack®*: LT1110S, LT1213S, LT1315),
Compatible spare parts for screens (Metso®*, Powerscreen®*, Sandvik®*, Terex®*, Keestrack®*),
Conveyors,
And steel deck feeders.
Grinders and crushers to reduce the size distribution of rocks and stones in aggregate and mining production and construction material recycling operations
A cone crusher for the mining industry is an equipment with many applications in quarrying, mining and recycling.
Used for secondary, tertiary and quaternary crushing stages, as well as pebble crushing, the equipment can also, when the material particle size is fine, ensure the first phase of the crushing process.
They allow the primary crushing of the hardest ores and rocks during aggregate or mining production operations. They are ideal for sample preparation, grinding, sieving and dividing. The use of jaw crushers allows for process optimization of aggregates production and the lowest possible operating cost per-tonne
They reduce rocks to small mineral particles. Used in the different reduction stages: from primary grinding to the last phase of the crushing process, impact crushers allow the crushing of ore and mineral materials of different hardness depending on the degree of reduction.
Also, they output mineral particles with good cubicity.
They are essential in the crushing stages of the aggregates. They make it possible to separate rocks according to their granulometry and shape, and to reduce the size of the rocks extracted until the size desired by the customer is obtained, or to obtain a recomposed mineral product by mixing different granulometries.
There are several types of screens:
Fixed screens: primary, metallic, modular, grid, finger sieves,
Vibrating screens: inclined vibrators and horizontal vibrators.
They are at the centre of your aggregate production and mining activity. These industrial belts allow mineral materials to be transported efficiently from one point to another in the mining process optimization with the least amount of energy possible to increase the profitability of your operation.
Different types of conveyors exist:
Stationary conveyors: chain, roller, reciprocating and wide-belt conveyors
Mobile conveyors
They allow efficient, impact-resistant and durable conveying of aggregates material.
Our complete solution has been designed to improve your conveying activities on your aggregates plant facilities.
Lower rollers
Idler wheels
Toothed wheels (sector or sprocket)
Chains
Tiles: Different types of tiles made to measure on demand
*Metso®, Sandvik®, Powerscreen®, Terex® and Keestrack® are registered trademarks or trademarks, and are in no way affiliated with Haladjian Minerals.
Access our entire product solution for the aggregate and mining industry
NEWS
Latest news
Spare parts for aggregates production
Following a breakage, one of our customers requested the intervention of our crushing and grinding machines experts. Their mission was to apply their machine expertise
Read more »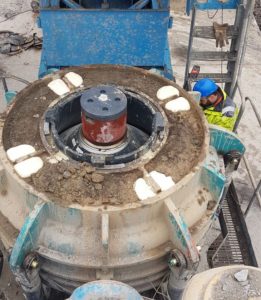 You want to know more on how to maintain the reliability and the productivity of your aggregates production crushing and grinding machines? It is an
Read more »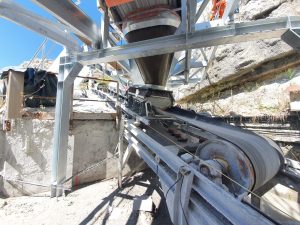 Haladjian Minerals Solutions is a company specialized in aggregates production services and in fixed plant engineering for quarries. Read about our custom-made chute for a quarry fixed plant.
Read more »